SMS & NEWSLETTER Opt in Terms of Service
SMS TERMS OF SERVICE 
Activate - Short Code ___
When you opt-in to the service, we will send you an SMS message with an activation code for the requested service. You will receive 1 message with the activation code that you requested. 
You can cancel the SMS service at any time. Just text "STOP" to +1 833-299-4594 (in the U.S.) and +1 706-309-4694 (outside of U.S.). After you send the SMS message "STOP" to us, we will send you an SMS message to confirm that you have been unsubscribed. After this, you will no longer receive SMS messages from us. If you want to join again, just sign up as you did the first time and we will start sending SMS messages to you again. 
If at any time you need assistance, just email us at support@mybeautifulpride.com and we will respond with instructions on how to use our service or how to unsubscribe. If your are contacting us regarding the failing of the opt out, we will manually unsubscribe you and then email you a confirmation that you have been removed from SMS. 
As always, message and data rates may apply for any messages sent to you from us and to us from you. If you have any questions about your text plan or data plan, contact your wireless provider.
If you have any questions regarding privacy, please read our Privacy Policy.

EMAIL NEWSLETTER TERMS OF SERVICE
When you subscribe to the newsletter service, you are consenting to receive regular emails outside of order status and shipping notifications emails. When you subscribe, you will be added to receive regular newsletters about new products, promotions and offerings. 
You can unsubscribe from the newsletter at any time by clicking the unsubscribe button that is at the bottom of the email or you can email us at support@mybeautifulpride.com to request that you be removed from the newsletter list. Once removed, we will email you to confirm your removal. It may take 7-14 days to no longer receive newsletters but in the event that you are still receiving newsletters after 14 days, please email us to let us know so that we may investigate the issue further and rectify the situation. 
Questions about the the SMS & Newsletter Terms of Service should be sent to us at support@mybeautifulpride.com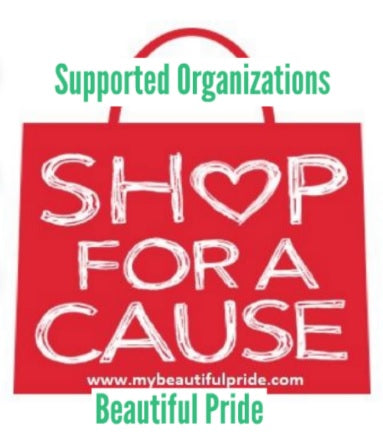 Organizations YOU are Currently Supporting With Your Purchases
Take a peek at the organization that you help us support with proceeds from your purchases (as of 2/1/22).
Watch Video