About Beautiful Pride
Welcome to Beautiful Pride where fashion is a statement of boldness, expression is eternal and supporting a social cause is made easy. We are confident that Beautiful Pride is the last place on your search for that special statement piece. 
Because Beautiful Pride is a owned by a BOLD, BEAUTIFUL & PROUD Black, fat, LGBTQ and disabled woman who is a survivor of foster care, sexual abuse, domestic violence, poverty, solitary confinement and the prison system who lives with a mental, physical and social disability and who has a lot to say, Beautiful Pride was created with other BOLD and PROUD humans in mind. This is a space for Beautiful humans of all shapes, sizes, shades, abilities and social statuses where we can freely express our pride with boldness and fearlessness while making a social statement at the same time.
Beautiful Pride's vision is to support & empower others who also have a lot to say, who are beautiful, bold, proud and fearless and who are often silenced, ignored, overlooked, stigmatized, socially excluded or ridiculed because of who we are, how we were born, what we look like, what we believe, who we love, what we love, what we are passionate about or what we have been through.

Because we believe that people should be able to express themselves freely and boldly AND because we believe that we should also support organizations and movements that empower and advocate on behalf of the bold, we are doing our part to support humanity by donating 10% of the proceeds from select COLLECTION items to organizations doing great work to empower and support other beautiful humans through the online shopping experience of Beautiful Pride. 
So shop & support but most of all...BE BEAUTIFUL, BE PROUD & LOVE THYSELF (and the body you are in)!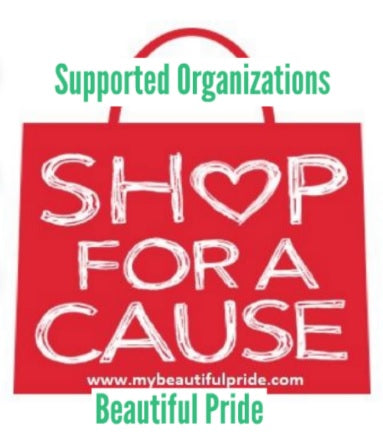 Organizations YOU are Currently Supporting With Your Purchases
Take a peek at the organization that you help us support with proceeds from your purchases (as of 2/1/22).
Watch Video