Frequently Asked Questions (FAQs)
DO YOU OFFER GIFT CARD? Not at this time. However, we do intend to start offering gift cards in February 2022. 
DO YOU MAKE CUSTOM ORDERS?  Unfortunately due to the volume of customers we have and the fact that we have to pay a designer to create most of our designs, we are unable to create custom orders that are non text.
However, we are able to accommodate requests for TEXT designs. If you see an item online in one collection and would like it to be offered in another collection, we may be able to do that. For example, if you liked the "end mass incarceration" t shirt but wanted one to say "end housing discrimination" or "stop ableism", we can honor this. Also, if you see a t shirt you like but would like it in a hoodie, facemask or onesie, we can honor this requests as well at no additional cost to you. You would simply need to email us at support@mybeautifulpride.com with your request and a link to the product you are referring to and we will follow up with you. 
DO YOU ACCEPT RETURNS OR OFFER REFUNDS? 
Returns: Due to Covid-19 safety precautions, we are unable to accept returns of OPENED apparel or face masks that are not defective or are a fulfillment mistake. We also cannot accept returns or refunds on sale items or gift cards. However, if there was a problem with the order you received, please email us at support@mybeautifulpride.com so we can make it right. 
Refunds: We will only give a refund for items that were received defective or was the result of a fulfillment mistake such as the wrong item, the wrong size, wrong color, etc. what you ordered. Photos of wrong/damaged items can be emailed to us support@mybeautifulpride.com and we will take care of you. 
(for more details on returns and refunds eligibility, please see the refund policy in the top menu or the footer of the website).
DO YOU ACCEPT EXCHANGES? Due to Covid-19 safety precautions, we are unable to accept returns of OPENED apparel or face masks. Therefore, the best way to ensure you get the right size is to check out our sizing charts—we have one for every item listed on our store, in the product description section. The sizes are TRUE to SIZE. 
HOW LONG WILL IT TAKE TO GET MY ITEM(S)? We have had customers to receive their items in 5 business days and some in 10 business days. It just depends according to the part of the U.S. you live in. However, on average, you should have your item within 5-9 business days. For more info, please see the shipping policy located in the main menu and the website's footer.
​WHAT DO I DO IF I HAVEN'T RECEIVED MY ORDER? Due to Covid-19 delays, please allow 5-11 business days to receive your order. If it has been over 11 business days, please check your order confirmation email or text for the tracking info BEFORE emailing us. Shipping claims deemed an error on our part are covered at our expense. For more info on shipping, please see the shipping policy in the both the main menu and the website footer. 
WHAT HAPPENS IF I ACCIDENTALLY GAVE YOU THE WRONG SHIPPING ADDRESS? If you provided an address that is considered insufficient by the courier, the shipment will be returned to our facility. Once we confirm with you the updated address, you will be liable for reshipment costs.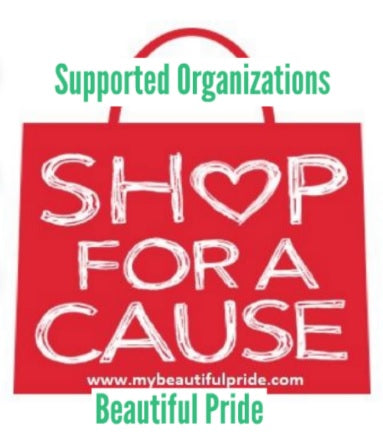 Organizations YOU are Currently Supporting With Your Purchases
Take a peek at the organization that you help us support with proceeds from your purchases (as of 2/1/22).
Watch Video